New Zealand education officials shared their experience in education reform with Vietnam during a workshop held at the National University of HCM City yesterday.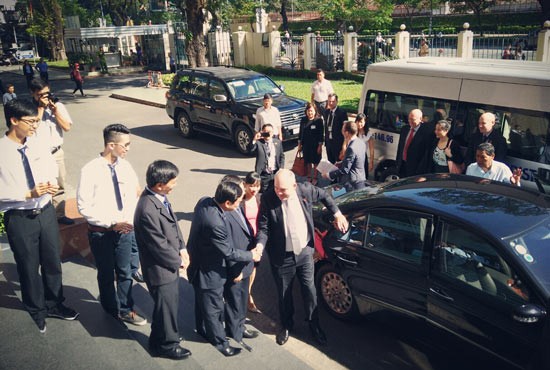 Managers of the school receive NZ Education Minister (Photo: SGGP)
The workshop was part of a programme that included a visit to the university by a high-ranking delegation from New Zealand led by government minister Steven Joyce.
The workshop's agenda included comparing the Vietnam and New Zealand school leadership contexts, lessons from New Zealand and other international educational leadership research, and the difference between leaders, leadership and leading.
It also included the daily life of a HCM City principal with lessons from their New Zealand counterparts, the HCM City principal as a leader of learning and curriculum reform, developing shared leadership responsibility for learning, and curriculum implementation through harmonious relations with teachers and heads of divisions.
On Tuesday, four New Zealand universities signed agreements with institutions in HCM City, further strengthening the strong education ties that exist between the two countries.
Speaking at the signing ceremony, Minister Steven Joyce said: "The new partnerships represent significant milestones in our education relationship with Viet Nam. These agreements will deepen the level of engagement between our two countries and enrich our students' learning.
"Students need to be exposed to international thinking and the new ideas that collaborative partnerships and academic exchanges bring to our classrooms."
The partnerships are part of the New Zealand – Viet Nam Strategic Engagement Plan on Education signed by Joyce earlier this week to deliver economic, social and cultural benefits to both countries. The signing in Ha Noi on November 15 was witnessed by New Zealand Prime Minister John Key and PM Nguyen Tan Dung.