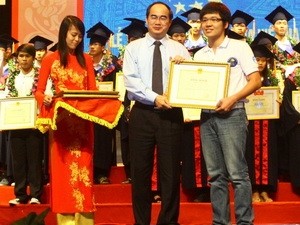 Deputy PM Nguyen Thien Nhan ( L, second) giving certificates of merits and awards to students
The Ministry of Education and Training and the Student Association held a ceremony yesterday to honor all students who won awards at the 2011 International Olympiad and also those students receiving the highest marks in university entrance examinations in Hanoi.
30 of the 37 students honored at the ceremony came first in the entrance examinations of universities and 7 won medals at the International Olympiad this year.
Speaking at the ceremony, Deputy Prime Minister Nguyen Thien Nhan expressed his pride in all the students, asking them to continue their efforts in studying and learning more advanced technologies and thereby serving their country.
The Deputy PM provided certificates of merit and awards worth VND5 million to each Olympiad winner and to students coming first in the university entrance examinations.