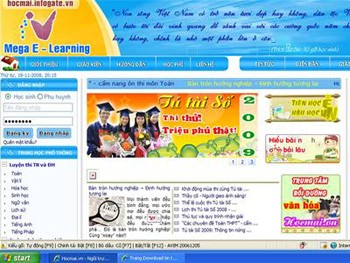 The interface Mega e-learning
Vietnam Data Communication Company (VDC) has inaugurated online training channel Mega e-learning.
People can register at http://hocmai.infogate.vn to access lectures and take tests for all levels from junior high school to university or college entrance.
Another website, http://bea.infogate.vn, offers online English teaching by various lecturers, including well-known ones like Nguyen Quoc Hung, who teaches English on VTV2 channel.
The e-lectures are written by experienced teachers and uses advanced online learning technologies to display pictures, videos, and texts.
But they are still limited to certain subjects and VDC plans to expand them soon.