More than 1.7 million students have registered to take entrance exams to universities and colleges nationwide this year, with the first session of the exams beginning on July 4.

The figure shows a 2 percent increase compared to last year.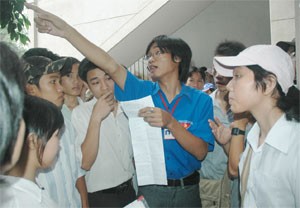 Volunteers are guiding candidates to room
The exams will be organised in three sessions, the first lasting from July 4-5 with maths, physics and chemistry tests for natural science universities and colleges , the second for other universities from July 9-10 and the third for three-year junior colleges from July 17-22.

This year, the number of students registering to take university entrance exams decreased by 2 percent compared to last year while those registered for junior college entrance exams increased by 2 percent.

More student have applied to agro-forestry and fisheries schools, while economics, business and pedagogy, which were popular in previous years, attracted fewer applicants, with some schools seeing numbers drop by up to 26 percent.

Many students have registered to take entrance exams to regional universities or newly-established schools. The An Giang University in the Mekong Delta saw a 62 percent increase in applicants and Tien Giang University, which begins to admit students for its first courses this year, attracted 6,124 students.

The Ministry of Education and Training has asked People's Committees in provinces and cities, as well as relevant ministries, branches and services to work out plans for coordinating activities to ensure the safety and seriousness of exams.

According to the steering board for the organisation of university entrance exams, universities and colleges nationwide have prepared more than 40,000 rooms and enlisted more than 120,000 staff members to serve the exams.
(Source: VNA)