More than 500,000 students took the first session of entrance examinations for entry into one of 92 universities and institutes across the country, accounting for approximately 70% of the total registered participants.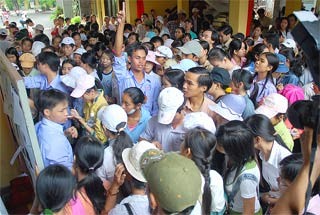 Students look at the guidance board at University of Education
Statistically, the number of students taking this year's first session of university entrance examinations is two percent lower than last year.
69% of candidates sat the examination to enter the Vietnam National University in Ho Chi Minh City while 71% tried for the Economics and Industry University. Out of more than 9,000 entrants that registered to take part in examination 1, 395 are from ethnic minority groups.
The most worrying problem facing most students is the number of traffic jams. Yesterday, more than 150,000 contestants traveled to 148 examination sites in Ho Chi Minh City.
Although voluntary students and the police do their best to provide assistance and reduce traffic jams in all streets, traffic congestion was still a problem on some roads in Ho Chi Minh City.
For instance, thousands of students and their parents poured into examination sites for the Agriculture Nong Lam University in Ho Chi Minh City, Ho Chi Minh City's University of Technical Education and the Industry University, causing traffic jams in the streets of Kha Van Can, Vo Van Ngan and Nguyen Van Bao.
Traffic wardens and district police struggled to clear the streets. Similar conditions occurred in the capital city of Ha Noi where students arrived at examination sites in rush hour, causing congestion in the streets of Tay Son, Chua Boc, Pham Ngoc Thach and Xuan Thuy.
Pupils in Can Tho City and Da Lat faced another problem; they thought that they were allowed to enter the examination room with pocket calculators as they had read in the newspaper; however, examination invigilators of Can Tho University warned them not to bring FX 500MS calculators into examination rooms.
In addition, students were allowed to use Mendeleev's periodic table in some schools but not in others. The Head of Nha Trang University's Department of Training, Tran Danh Giang, reaffirmed that the periodic table is not allowed to be taken into examination rooms.
Another obstacle for candidates was the tropical low depression that hit the central coastal provinces from Quang Ngai to Quang Tri yesterday.
The Ministry of Education and training instructed examination councils in schools in affected areas to team-up with local authorities to protect students and the secret examination documents.
The strong winds will bring showers to several parts of central Viet Nam on July 4 and 5, according to Ms. Le Thi Xuan Lan, head of the Southern Hydrometeorology Forecast Office.
In a bid to help students from affected provinces, a program was set up to provide free or cheap accommodation for candidates and their parents to come to Ho Chi Minh City to sit the exams.
To date, more than 10 thousand cheap rental houses and one thousand free accommodations have been made available for them.
The first session of entrance exams for the country's universities are set to take place between July 4 and 5 and the second session will be held on July 9 and 10 with exams for three-year junior colleges taking place on July 15 and 16.