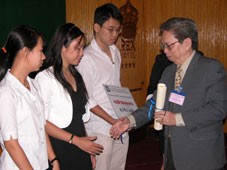 Students are awarded AUCP scholarships
AUCP is a cooperative education program jointly carried out by Viet Nam National University-Ho Chi Minh City (VNU-HCM) and several universities in the U.S.
AUCP offers scholarships to students pursuing bachelor and master degrees in information technology and business administration.
Vietnamese high school or university graduates who chieved at least 500 points for the TOEFL scores can stand a chance to take part in the program.
Selected students will take the first two years of the program in a university in Viet Nam and the remaining years in the U.S.
The universities in the U.S. will grant degrees with academic titles to their graduates on completion of the courses.
Of more than 600 students enrolling in the program so far, 126 have been on the scholarships, worth over US$1.1 million, awarded by U.S. universities.
Nearly 40 students have received grants totally worth US$50,000 offered by VNU-HCM Center for International Education.

A new AUCP program was also launched at the conference on May 21, 2006.