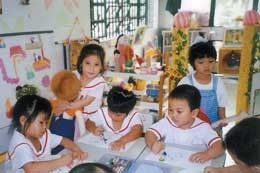 Children of Nhieu Loc Kindergarten in Ho Chi Minh City
After three years' implementation of the reformed kindergarten program under the government's Decision 161, there are only two communes that have no kindergartens in the whole country.
The information was reported by the Ministry of Education and Training (MOET) in a forum titled "Equality and Quality of Kindergarten Education in Viet Nam", held by MOET with the participation of international sponsors such as UNICEF (United Nations Children's Fund), Oxfam and Save the Children UK.
Currently, MOET is working on a project for the development of kindergarten education period 2005-2015, with the most important target is to make changes in educational curriculum and methods. Accordingly, by 2010, at least 80 percent of children will enjoy new educational methods, and the rate will be 100 percent in 2015.
Over VND6,621 billion is needed to implement the program in the next ten years. It is planned that the project will be submitted to the Prime Minster for approval in early June.