For the current academic year, Ho Chi Minh City has carried out a pilot kindergarten project to take care of 6-month old to 12-month old kids in districts 7, 12, Binh Tan, Tan Phu, Thu Duc, Cu Chi, Nha Be and Binh Chanh. Each district has one or two state kindergartens for babies.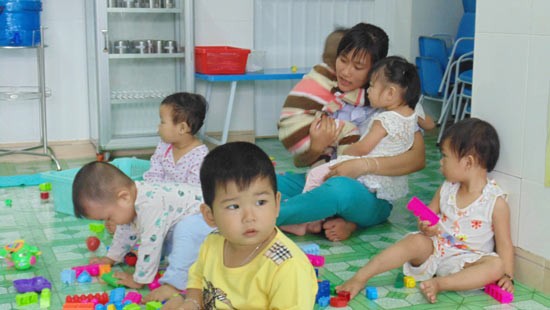 State-funded pilot babysitting project receives support of parents (Photo: SGGP)
As per the municipal People's Committee's plan, next year the project will be conducted in remaining districts including districts 9, 11, Go Vap and Tan Binh. All districts are ready for the project.
Head of Bureau of Education and Training in Go Vap District Dang Thanh Tuan said that his district has piloted the project with one preschool Hoa Phuong Do in Ward 6 which taken care of  35 babies and next year the district will have one more in Ward 11.
Bureau' deputy chief Bui Thi Minh Nguyen said that the district would give priority to children whose parents are government workers, soldiers or children from low-income families and currently preparation for the pilot project has been ready.
Go Vap District has also planned to open two preschools which keep 13 month old to 18 month old in Anh Dao Preschool in Ward 17 and Hong Nhung Preschool in Ward 4.
Deputy head of the Bureau of Education and Training in Tan Binh District Pham Thi Phuoc said that for the academic year, the district would take care of kids in three preschools which have had good facilities.
The preschools are scheduling to look after total  100 kids including 40 kids in the age of 6 month old to 12 month old and 60 babies from 13 to 18 month old.
District 11 has planned to receive 40 neonates for the next academic year and People's Committee in district 9 has announced to build 6 new rooms in Truong Thanh Preschool to receive kids and spend more than VND500 million (US$ 23,191) on facilities.
As the demand of sending babies to preschools increased, management boards have to refuse many cases.
After one year implementation, parents have showed their trust to the pilot project. Yet, to achieve long-term success, city authorities should pay more attention to the project. One of urgent matter is to recruit more teachers for these preschools.