Former Chilean dictator Gen. Augusto Pinochet leaves a military hospital on August, 10, 2005.
In a widely expected decision, Judge Victor Montiglio charged Pinochet in connection with the kidnapping and disappearance of seven dissidents in the early years of his 1973-90 dictatorship, his office said.
Local news media reported that Montiglio went to Pinochet's mansion to personally inform him of the charges.
The charges mean Pinochet will almost certainly spend his 90th birthday Friday under arrest in his eastern Santiago mansion, where friends and relatives reportedly planned a luncheon to celebrate with him.
The new indictment involves the disappearance of seven dissidents arrested by Pinochet's security services in late 1974. They were among 119 people, some of whose bodies were later found in Argentina, who disappeared in a case known as Operation Colombo.
The Pinochet government claimed at the time that the dissidents were killed in clashes involving rival armed groups opposed to him.
Pinochet had been indicted and put under house arrest Wednesday by another judge, Carlos Cerda, on charges of tax evasion and corruption. Early Thursday, the Santiago Court of Appeals granted Pinochet freedom on a $11,500 bond.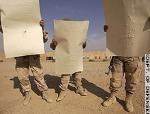 qqqq
Pinochet's chief lawyer, Pablo Rodriguez, said he would appeal the corruption indictment within a five-day deadline.
A government lawyer had asked the court to increase the bail by 10 times, saying "Pinochet is not a poor man, and he had continued to receive money." But defense lawyers said the retired general has no money because his accounts have been frozen.
That indictment charged Pinochet with tax evasion, using false passports to open an account abroad, submitting a false government document to a bank and falsely reporting personal assets. The judge who preceded Cerda in the case, Sergio Munoz, estimated Pinochet's overseas fortune at $23 million.
The accounts were first reported in a U.S. Senate investigation of Riggs Bank in Washington, where Pinochet kept $8 million. Other accounts have since been discovered in Britain, Gibraltar and other countries. Pinochet's lawyers say the money consists of legitimate donations, savings and investments proceeds.
Pinochet had previously been placed under house arrest twice on human rights charges, but courts blocked both trials because of his poor health.
Rodriguez insists Pinochet, who suffers from mild dementia, arthritis and diabetes, is too ill to be tried, as courts have previously ruled. But a team of doctors who recently examined Pinochet told Cerda he is fit to stand trial.
According to the civilian government that succeeded Pinochet in 1990, 3,190 people were killed for political reasons during his regime. More than 1,000 others remain unaccounted for after being arrested and tens of thousands fled their homeland to exile.