Prime Minister Phan Van Khai has just signed Decision No. 107 on student loans benefiting poor students who undertake regular studies with a term longer than one year. Accordingly, the Bank of Social Welfare (BSW) is allowed to decide on the loan value on the basis of its financial ability.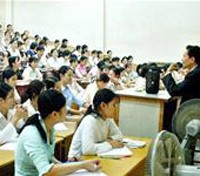 Students will have more opportunities to receive loans with low interest rates.
Students from universities, colleges and vocational training schools, who have registered for permanent residence or long-term temporary residence, will be given opportunities to receive soft credits from the BSW through their households with interest rates as low as those given to the poor.
According to Mr. Le Hong Phong, Deputy Director General of the BSW, for the time being, the loan amount will remain unchanged at VND300,000/student/month.
However, the bank will consider and appraise the real situation so that it can propose the bank's Board of Directors specific loan limits, taking into account the surge of prices, the needs and expenditure of students.
Mr.Phong also said that the loan conditions will be more open without consideration of academic grades as a compulsory loan condition.