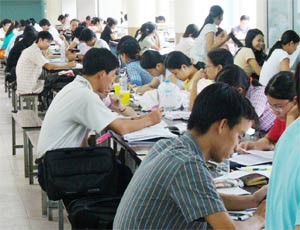 Local students prepare for their coming university entrance examination. (Photo:TK)
The Prime Minister has recently requested ministries and branches to coordinate with the Ministry of Education in preparing for the coming university and college entrance exams.
In his official letter,  Prime Minister Nguyen Tan Dung urged the Ministry of Education and Training to organize an examination that is free from corruption and achievement sickness. The Prime Minister also requested that the authorities of communications, security and information at all levels, need to give any necessary help to the Ministry of Education in ensuring that the examination will be carried out in order and security.
The Prime Minister also requested the Ministry of Education to implement disciplinary measures to those individuals or organizations that are caught either cheating in the examination, selling fake test questions, secretly delivering reference materials or solutions to candidates or to threatening invigilators.
The college and university entrance examination is this year going to take place in three phases. The first will take place on July 4 - 5, the second on July 9 -10 and the third on July 15 -16.