The top rate of university fees will rise by VND60,000 to stand at VND240,000 a month, Prime Minister Nguyen Tan Dung ordered August 21. The increase will begin September 1.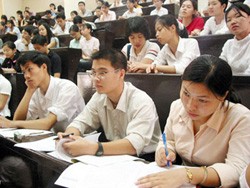 Ceiling tuition fees at universities will increase to VND240,000 a month from September 1 (Photo: dantri)
Nguyen Van Ngu, head of the Ministry of Education and Training's Planning and Finance Department said that the decision just affected the ceiling level, the basic fee remain unchanged.
According to the decision, new school tuition fees for vocational high schools will be VND20,000 to 160,000 a month for each student. For vocational secondary schools, it will be from VND15,000 to 135,000.
For colleges, it will be VND40,000 to 200,000. And university students will pay from VND50,000 to 240,000 a month.
For a student following an MA degree, it will be VND75,000 to 270,000 and for doctoral degrees it will cost VND100,000 to 330,000.