As per the Prime Minister's directive, relevant agencies must help students complete the high school graduation examination.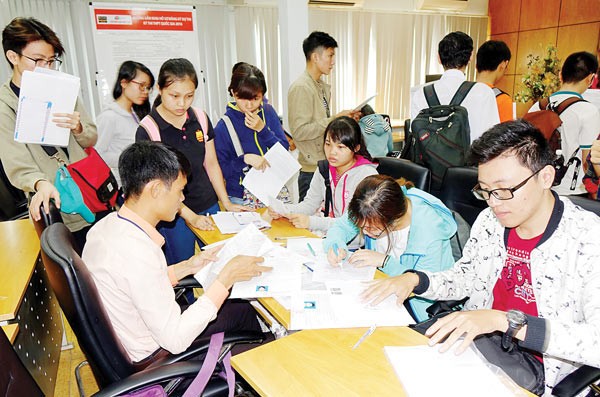 Students finish paperwork for enrolment lát year (Photo: SGGP)
As per the PM's directive to the Ministry of Education and Training, related ministries and agencies and people's committees concerning to the high school graduation examination, the Ministry of Education and Training must finish document to guide and plan to organize the exam as well as enrollment including prediction of difficulties during the process to have resolution for each situation.
There should be a close cooperation between related agencies and people's committees with education sector to prepare for the exam aiming to facilitate students and school.

People's committees are asked to liaise with the Ministry in organizing exam venues in each locality. Students will be exempted when sitting for the exam.
Moreover, local administrators offer favorable condition for faraway students and their relatives by encouraging organizations, benefactors to aid ethnic minority students, students from social welfare families, disabled students, students from low-income families, from distant and disadvantaged districts and students from disaster-hit regions.

No student quit the exam because of financial difficulties or transportation, said the PM in the document.  The Ministry of Foreign Affairs, the State Committee for Overseas Vietnamese Affairs and related agencies created good condition for Vietnamese students in oversea countries, foreign students in Vietnam who wish to take the exam to take part in the university entrance examination.

The Ministry of Public Security will adopt safety measures for the exam especially protection of the test transportation as well as keep order in venues for exam. Transport sectors will help ease traffic congestion and ensure traffic safety which badly influence the exam. Health sector will have measures to treat poisoning and food safety.

Young Communist Unions should launch program "Sinh vien tinh nguyen" (Student work as volunteer), "Tiep suc mua thi" ( Giving assistance to exam candidates) to provide aid to students and their relatives who from faraway districts.

The national high school graduation exam will take place from June 21 to 24. This year, nearly one million students will sit for the exam.