The former gym teacher of Doi Ngo High School in Luc Nam District in the northern province of Bac Giang, who had earlier provided Internet clips of cheating malpractices during the recent graduation exam, on June 8 announced that he would provide more authentic clips to the police.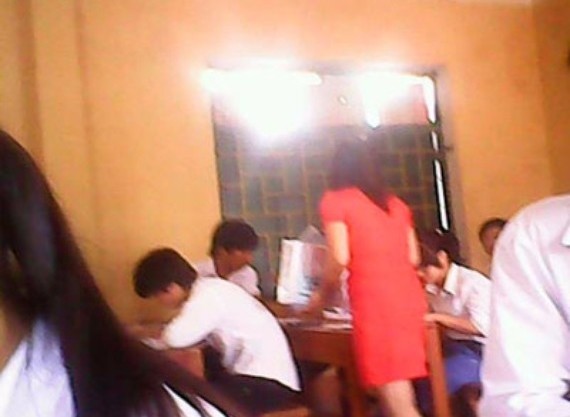 One clip shows a woman in a red dress collecting answer cheat sheets from students prior to end of examination time
The gym teacher said he had a total of 12 clips, taken in two different examination rooms. However, he would only give the police six clips as he wanted to protect the identity of one of the students.
Meanwhile, teacher Do Viet Khoa, known for his fight against cheating in exams, provided a clip of a maths examination in Doi Ngo High School to the media.
The clip shows pandemonium in an examination room where students were asking answers from friends without being checked by invigilators.
Of more serious concern was a clip showing a woman in a red dress, presumed to be a teacher at Doi Ngo High School, collecting answer cheat sheets from students after they had completed copying from them.
Pham Vu Luan, Minister of Education and Training, said the education sector is coordinating with related agencies and the police to investigate this serious crime. However, the minister did not think it wise that the clips had been posted on the Internet as that causes a negative influence on younger students who may imitate such acts in future.
Leaders from the Department of Education and Training in Bac Giang Province had a meeting with members of the examination council of Doi Ngo High School in the presence of representatives from the provincial People's Committee, District People's Committee and inspectors from the ministry.
Members of the examination council of Doi Ngo High School wrote out a report acknowledging their wrongdoings, based on which penalties will be decided on for each individual involved in this cheating scandal.

Related article:
Cheating in exams under investigation
Internet clip of cheating malpractices under investigation