There has been a change from the academic year 2014-2015 that students of private and public universities all enjoy same tuition fee exemption. Along with this, many facilities and enterprises give supports to students with good results in the entrance examination and students from low-income families, aiming to encourage them in learning.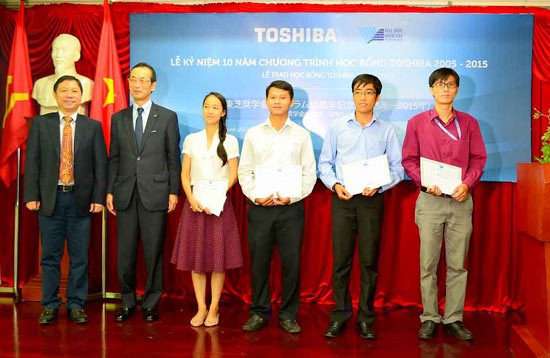 Representatives of Japan's Toshiba Corporation offer scholarships to students of the National University in HCMC on September 11 (Photo: SGGP)
As per the decree No. 74 and circular for the academic year 2015-2016, more students will be exempted from tuition fee including students studying Marxism–Leninism and Ho Chi Minh theory; learning Tuberculosis, Leprosy, Mental disease, Forensic medicine; students from ethnic minority groups and from disadvantaged districts.
Additionally, students of Dance and Circus also benefit from the new policy.

For state facilities, the government will directly allocate more funding for them; accordingly students will pay less for the tuition fee. The new policy offer excitement amongst students and help eliminate inconvenience for the beneficiaries.
Moreover, students of private facilities also enjoy the new policy. Before, students of private schools are not exempted from tuition fee as well as not able to ask for loan. This new policy brings new hope for them.

Huynh Ngoc Anh, head of a Student Relation Department of Technology University in Ho Chi Minh City said that the tuition fee exemption policy created excitement amongst students in state and private schools.
According to the Department of Finance under the Ministry of Education and Training, around 20 percent of students in private school will be benefitted the new policy.

It can be said that schools and enterprises all support good students and those who are from families' difficult economic conditions

One of enterprises to support students' research and studying is Japan's Toshiba Corporation. In 2015, the corporation offered 20 scholarships worth JPY1.6 million to students of the Nation University in HCMC. A full scholarship is worth JPY 200.000 (around VND37 million) and a partial scholarship is JPY100,000.

More interesting, this year, many state schools offered scholarships to students. For instance, The International University belonging to the National University in HCMC spent VND13 billion (US$578,060) to give students with high scores in the entrance examination.
The Technique Pedagogy University also announced to give scholarships to female students learning engineering such as Car engineering, Machine Invention engineering, Mechanical engineering technology. The scholarship is worth half of the whole course tuition fee.

The Economy University offered 522 scholarships worth VND24 billion to new students of the academic year 2015-2016. In addition, the school has scholarships to encourage learning for 10 percent of students in the school.

Meantime, private school also offered many scholarships to students. Nguyen Tat thanh Private University allocates over VND5 billion for scholarship programs such as Tai nang – Vuot kho (for students from meager-income families but excel in studying), scholarship to encourage learning.
Additionally, the school also exempts tuition fee for faculties which has a few students, and children of families prioritized under social welfare policies.
Students of textile and garment faculty can have chance to receive scholarship of VND2 million and female students of mechanical engineering and technology will receive scholarship equal to 30 percent of tuition fee in a year.

Lately, Hoa Sen University announced the name of students to receive scholarship totally of VND7.2 billion. Hong Bang Private University also supports students to borrow loans for learning without interest. FPT School gives 400 scholarships totally worth VND38 billion for the academic year 2015-2016.