The main headache for officials in the Mekong Delta is the lack of teaching staff, as this greatly influences learners. Each province in the region has recently worked out measures to fix the problem.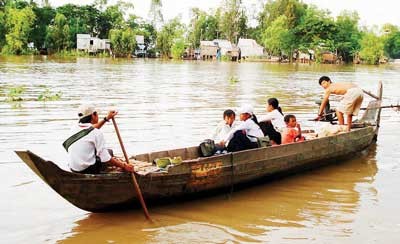 Some students in the Mekong Delta provinces come to school on ferries (Photo; SGGP)
The Mekong Delta province of Kien Giang needs 994 teachers and its rate of graduate students in 2008-2009 is 3.35 percent lower than the previous year.
Kien Hai District lacks 27 teachers in English and Geography, with high school students learning in the morning and seniors in the afternoon, as such the quality of schooling cannot be ensured.
Trinh Van Quang, head of the district's Department of Education and Training, said, "The district needs a geography teacher, hence literature or history teachers need to provide lectures on geography. It is difficult to improve studying quality."
More critically, teachers deliver lessons to senior high school students although they are essentially junior high school graduates. They therefore must take part in refresher courses in summer vacations to improve their skills and knowledge.
Nguyen Khai Hoang from Kien Hai's Party Central Committee's Commission for Propaganda and Education said; "Because the district is a distant island, good teachers are not willing to work there."
His district has seen 44 out of 71 students succeed in the last graduation exams.
Teachers in urban and rural areas: surplus versus shortage

In the upcoming school year, the Mekong Delta province of Hau Giang needs 143 high school teachers and 333 kindergarten teachers.
"Young people from the area, when finishing their studies at university, seldom come back to teach in local schools. Most teachers here are from other provinces or even from the Central area," Tran Tan Thoi from the province's Department of Education and Training explained.
According to the Ministry of Education and Training, there is a serious shortage of both quality and quantity in the teaching staff in the Mekong Delta area, namely physical education, art, music, computer science, foreign languages and lab assistants at high school level, as well as professors with post graduate degrees for graduate levels, which greatly affects education and training.
There is also a local lack or surplus of teachers in many parts of the Mekong Delta province of Tra Vinh.
While Tra Cu District still lacks many art, music and computer science teachers and has to ask the Department of Education and Training for help, English language, chemistry, and biology teachers are abundant in schools in towns in the province, with head teachers arranging them to do office work.
This is a common fact of teacher training in the Mekong Delta.
Most teachers, including trainee teachers, are found in urban areas or in highly respected schools.
Numerous graduates are willing to work outside their field or prefer to be unemployed rather than return to their home areas. 
Taking the initiative to 'order' new teachers

Although in the last three years investment in education and training in the Mekong Delta has increased a great deal, with such a low starting point, the expected breakthrough has barely been reached. 
"There are many reasons that slow down the process: school network planning is not logical and facility upgrades are not synchronous with the teacher training process. However, the most important reason is that the quality of educational managers is not sufficient to create proper policies that are suitable for the specific economic and social conditions of the areas," said Pham vu Luan, Deputy Education Minister.
In a trip to Hau Giang Province last July, the deputy Prime Minister and Minister of Education and Training, Nguyen Thien Nhan, said in the next three years, the pre-school and general education problem has to be solved.
 
To achieve that goal, each province must make plans to balance the teaching staff for all subjects and levels. They also have to take the initiative to "order" new teachers from pedagogy universities and colleges according to requirements.

Moreover, local governments should provide policies for teachers to encourage them to work in their local areas. Along with the upgrading of teaching facilities, this will help to improve the overall education and training quality of the country.

Related article;
Poor schooling in Mekong Delta worries Government