The government has decided to spend more on education in the Mekong delta; however, the reality falls short of expectation. Little expenditure on school facilities may be harming education.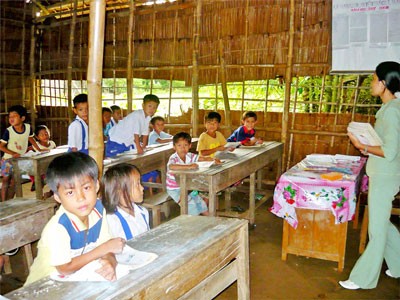 Students  ought to study in bamboo schools in the Mekong delta province of Tra Vinh  (Photo: SGGP)
Some 748 bamboo built schools and 937 academic institutes are in bad repair, with 454 residents' house converted into classes in the Mekong delta province of Tra Vinh, the provincial People's Committee reported August 30, 2007.
The bad conditions prevent teachers and students from learning and working effectively.
Take junior school Long Duc in Tra Vinh town. The school was built ten years ago and classrooms are now dilapidated, said headmaster, Lam Tan Lap. Moreover, the school ground is so low that it is inundated in the rainy season. Learning and gymnastics are greatly hampered by the submerged ground.
The southern province of Soc Trang is also suffering from poor school infrastructure. In 2008, the province spent VND129.3bln ($7.6m) on building 870 classrooms, yet only 18 have been completed.
An elementary school was housed in a monastery in 1975. There has been no repair work since leading to 19 classrooms being considered unsafe for pupils.
Beginning 2008, the government approved a VND2.8 trillion ($165.3m) program targeting new classrooms and houses for teachers who volunteer to work in distant and remote districts. However, undertaking construction progress is slow because some Mekong delta provinces still face difficulties to disburse finance for the project, as reported by the departments of Education and Training at a meeting with the Ministry November 24 in the Mekong delta province of Tien Giang.
The southern province of Tra Vinh spent VND265bn ($15.6m) from government bonds, the lottery and resident contributions. However, the province could build 1,490 classrooms and 336 houses for teachers but is still short of finance on the upkeep of sub-standard classrooms. This does not include schools with no restrooms or libraries.
Many children are disadvantaged by poor schooling. Providing enough schools with good facilities for learning is proving to be a headache for authorities in the region.