On March 16, activities are taking place across five provinces as part of the Premier Skills project for disadvantaged children, organized by British Council and Premier League with support from the Vietnam Football Federation (VFF).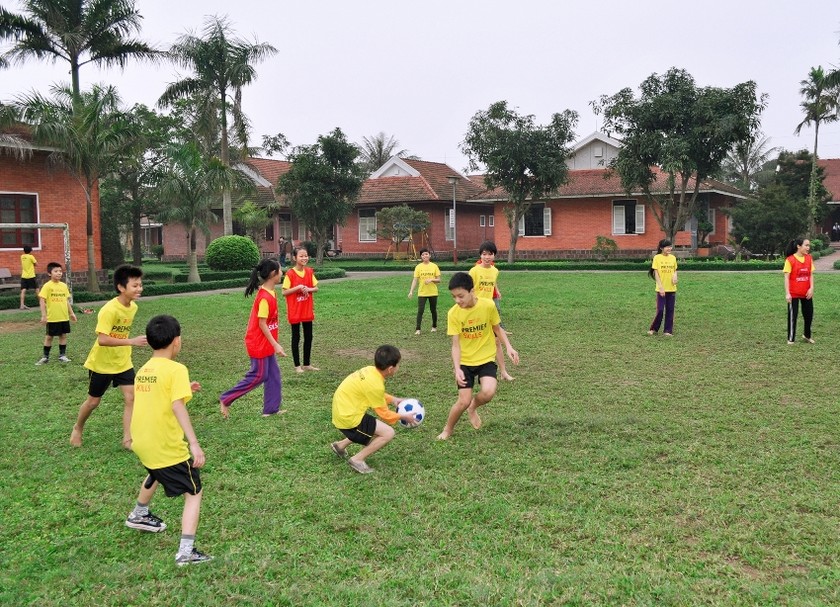 Homeless children of SOS Village in Vinh playing football (Photo: Courtesy of British Council)
A small group of coaches who took part in the event in late October last year the knock-on effect is now reaching the lives of hundreds of disadvantaged children of Nguyen Dinh Chieu vision-impaired school in Hanoi, hearing impaired children from Niem Vui school in the central province of Phu Yen, homeless children from SOS Village in Vinh, the central province of Nghe An and street children in Long Bien in Hanoi as well as kids in the central province of Thua Thien - Hue and District 5 and District 8 in Ho Chi Minh City.
Robin Rickard director of British Council Vietnam said: "Our wider remit is to connect people in the UK with those in other countries – thanks to football we're achieving that and the ripple effect continues to ensure more and more people benefit."
Alongside the six Community football clubs below, a range of school football clubs at 12 high schools in six provinces will be founded under the project management. The coaches of these clubs are school teachers who also attended the Premier Skills Event.

The project are supported by key local partners including Save the Children Vietnam, Blue Dragon Foundation, Hanoi Youth League and two British Council projects Connecting Classroom and English Language Teaching.