In a congratulatory letter, Vietnam's President Truong Tan Sang, wished the six Vietnamese students who won medals at the 54th International Mathematics Olympiad in Santa Marta City.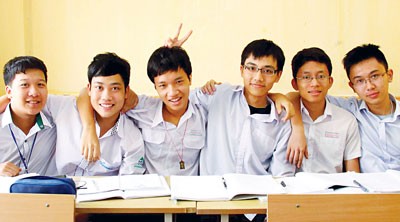 Six Vietnamese students won medals at the International Mathematics Olympiad(Photo:VNA)
In his letter, President Sang expressed his pleasure and pride at the excellent performance of the students, as this is the first time that Vietnam was among the top ten countries with the highest scores.
On July 31, on their return to Vietnam, the students were also warmly welcomed by leaders of the Ministry of Education and Training.
At the Olympiad, six Vietnamese students won three gold and three silver medals. Three gold medals were won by Vo Anh Duc from Ha Tinh High School with 34 points; PhamTuan Huy from Nang Khieu High School with 33 points; and Can Tran Thanh Trung from Nang Khieu High School with 31 points.
Three silver medals were won by Dinh Le Cong with 30 points; Tran Dang Phuc with 28 points; and Hoang Do Kien with 24 points.
With three gold and three silver medals, Vietnam was ranked 7th among list of 97 participating countries.