State President Nguyen Minh Triet has urged George Mason University to step up applied research in Vietnam and expand its cooperative ties with local counterparts.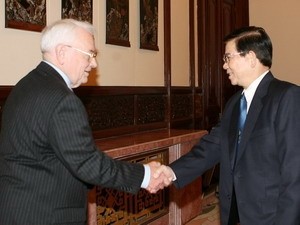 President Nguyen Minh Triet (R) shakes hands with George Mason Unversity's Provost Peter N. Steams in Hanoi on November 24
Receiving George Mason University's Provost Peter N. Stearns in Hanoi on Nov. 24, President Triet said Vietnam has focused on beefing up educational cooperation while strengthening and promoting its political, economic, trade and investment relations with other countries, including the US.
"Vietnam considers education and training a top priority for national policy and a key to its future in terms of development," the State leader stressed.
President Triet applauded the US University's cooperation with the Saigon Institute of Technology (SaigonTech) on short-term training courses in public policy, environmental protection and healthcare, as well as their joint plan to set up an international university in Vietnam.
The establishment of the university will provide Vietnamese students with a chance to access an advanced US-quality education at a lower cost, he said.
The President went on to say that as a prestigious US university, George Mason's move will help spur the growth of Vietnam's educational system.
Stearns told his host that George Mason pays careful attention to applied research, dedicating up to US$150 million to support student projects in this field.
As a young university, George Mason currently accommodates over 32,000 students from 130 countries and territories around the world, many of whom are Vietnamese and Americans of Vietnamese origin.
The provost said that in pursuing its target of becoming a global university, George Mason wants to foster cooperation in and sharing of tertiary education research with institutes and universities in Vietnam.
He noted that research and its applications to education play an important role, helping students to catch up with what they need to know in their future careers.