LONG AN (VNS)— President Truong Tan Sang joined teachers and students at Hau Nghia High School in southern Long An province's Duc Hoa district yesterday to attend the inaugural ceremony of the new school, which also marked the beginning of the 2014-2015 academic year.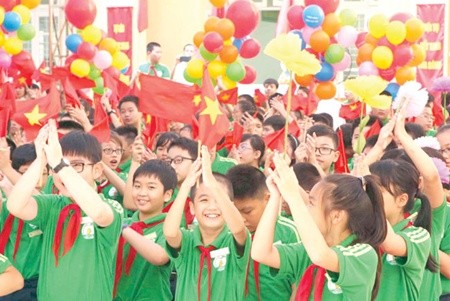 Students from Ha Noi-based Nguyen Tri Phuong junior high school celebrate the beginning of the new academic year yesterday. The occasion marked the beginning of the 2014-2015 academic year for the nation's 21.6 million students. — VNA/VNS Photo Quy Trung.
Minister of Education and Training Pham Vu Luan, State Bank Governor Nguyen Van Binh and secretary of the provincial Party Committee Mai Van Chinh also attended the event. Speaking at the ceremony, President Sang expressed his hope that the school's teachers and students would try their best and gain excellent achievements. He also presented scholarships and gifts to needy students who had performed outstandingly in their studies and social policy beneficiaries.
The new school was built at a cost of VND117 billion (US$5.5 million) under the sponsorship of Lien Viet Post Bank. Covering an area of more than 2.5 hectares, it features a library, kitchen area and swimming pool in addition to classrooms.
About 21.6 million Vietnamese students officially started the new academic year yesterday. Party and State officials attended ceremonies throughout the nation, particularly in rural areas and ethnic minority communities.
The 2014–2015 school year is considered particularly important, as the education sector plans to implement comprehensive educational reforms. These include developing new curricula, designing new textbooks, granting autonomy to State-run universities and setting up a joint high school graduation and university entrance examination.
In Ha Noi, the Department of Education requested all bureaus of education in the city to allow more time for parents to pay fees and ensure that parents unanimously agreed on the fee amounts.
The Ha Noi Department of Education also provided the contact information of education management officers on its website so parents could log any complaints directly with relevant officials.
A Ministry of Education and Training circular that takes effect October 10 this year instructs teachers to focus on encouraging students to study, instead of pressuring them to perform well in exams. At primary school, teachers will provide comments on students' performance rather than giving grades, while high school students will be able to get involved in creative activities.
The new circular also called for teachers to use more methods to develop students' soft skills, such as allowing students to comment on their peers' performance during group projects.
Viet Nam currently has more than 13,800 nursery schools, 15,300 primary schools, 10,800 junior high schools and 2,700 senior high schools.