While public universities are offering new majors to attract more students this year, private ones are trying their best to fill their quota of learners by resorting to various usual and unusual methods.

While well-known and established universities are comfortably placed, the lesser known ones try every trick to market themselves and attract more students.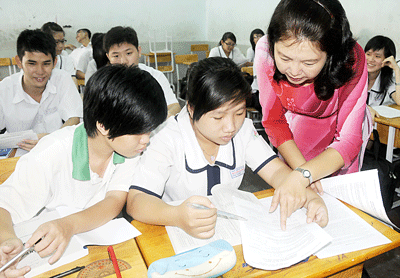 The filed photo showing twelfth-grade students of Nguyen An Ninh High School in District 10 receiving assistance in filling out registration forms for university entrance exams (Photo:SGGP)
During the university admission period last year, the Luong The Vinh University in the Red River Delta province of Nam Dinh shocked the public by announcing that any successful candidate in the university entrance examination would receive money.

The higher the marks, the more money they would receive. In addition, any agency that introduced students to the university would receive a commission of VND250,000 per student (approx. US$12). This luring trick greatly upset the public and the Ministry of Education and Training (MOET) had to forcibly put a stop to this method and also warned other universities against such dubious practices.

Having already acquired a bad reputation, this year the Luong The Vinh University has to be careful and has also been asked to close down four majors by MOET.

However, there is nothing to prevent this university or other private universities from exercising new and more devious tricks to lure students and persuade parents.

Chu Van An University in the Red River Delta province of Hung Yen has already announced a discount programme on school fees for different groups of students. Learners from mountainous areas are being offered a 50 per cent discount, from rural areas a 30 per cent discount, and from urban areas a 15 per cent discount.


Only by focusing on quality of training can universities increase competitiveness and seize the opportunity to become autonomous as offered by MOET in the near future via new university training laws.
Hai Phong Private University is providing its students with a 1500-room hotel with free Internet and Wi-Fi. All classrooms are equipped with a projector and an air conditioner.
Any high school student coming with credits or distinctions or ones getting 21 to 24 score in the entrance exam will be given a scholarship covering 80 to 100 per cent of school fee for the next four years.
Besides, learners from poor families are being offered a 10-50 per cent discount on school fees.

Hoa Tien University in the northern province of Ha Nam also announced a programme to provide university entrance candidates and their families with free accommodation on the days of the examinations. The candidate coming first this year will be presented a laptop while the one coming second will be given a desktop computer.

The school fee of this university is relatively low compared to others (i.e. VND400,000 per month for college programmes and VND500,000 per month for university programmes). Moreover, successful candidates are exempt from school fee of the first month.

Thanh Tay University in Hanoi said that any candidate having minimum marks as required by MOET would be welcomed at the university. Learners choosing it as a second or third option and sending result paper No.1 and No.2 to the university will be called immediately for registration. Excellent students in each semester will be exempt from school fee for that semester.

These examples have clearly shown that promotional programmes by private universities are hardly unusual nowadays. They are, however, merely an expedient method and cannot achieve an effect, for both learners and their families in the long term.

In order to truly attract learners, private universities should try their best to upgrade the quality of training quality and prove their trustworthiness to the public, instead of exercising temporary and enticing methods.