To encourage students in their academic pursuits, the organizers of the Trang Nguyen Flower Prize recognized 1,480 students across the country. This is the first year this prize was offered.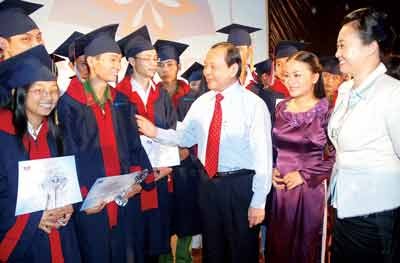 Mr. Le Thanh Hai(white,3rd,R), politburo member and party chief for the city, congratulates these excellent students (Photo:SGGP)
Four hundred seventy six excellent students from high schools, colleges and universities in the South received this prize Sunday at the Vietnam National University - Ho Chi Minh City. The prize will be offered to 179 exceptional students from the central region at Da Nang University on Sept. 21. The total value of the prizes is VND1.5 billion (US$91,000).
Trang Nguyen flowers symbolize man's thirst for knowledge, which the organizers hope students will share, Prof. Tran Hong Quan, chairman of the Non-State University Association, explained.
The event is organized by the Party Central Committee's Commission for Culture and Ideology, the Education and Training Ministry, Ho Chi Minh Communist Youth Union, the Non-State University Association and Tan Tao Industrial Park Corporation (ITA Group).
The hall was abuzz with admiration for Dang Tran Tien Vinh's achievements as a senior at a high school for gifted students despite his small body size. He won first prize in a competition held by the Royal Australian Chemical Institute and a bronze medal at an international mathematics Olympiad. Vinh said that the prize has encouraged him in his efforts to pass the entrance exam of the University of Sciences-Ho Chi Minh City next year.

Meeting and exchanging knowledge is the ultimate happiness of Nguyen Ly Hong Nhung, freshman in the Law Department of Can Tho University. As a disabled girl, Hong Nhung overcame barriers to become the most excellent student in the Mekong delta province of Soc Trang. She wishes to become a good lawyer to promote social justice.
Huynh Xuan Loc, who received the highest mark in the entrance exam for University of Medical and Pharmacy at Ho Chi Minh City, promised to strive achieve more to deserve the prize. ITA chairwoman Ms. Dang Thi Hoang Yen stated that she admired the determination of the students present at the hall and she promised to establish another fund to support them during their years at university.
Mr. Le Thanh Hai, politburo member and party chief of the city, and Ms. Nguyen Thi Thu Ha, deputy chairwoman of the city's People's Committee, attended the ceremony.