In an effort to improve the standard of English in schools, the People's Committee of Ho Chi Minh City had approved a pilot program to raise English language proficiency for the period 2011-2020 at an investment of VND2,500 billion ($120 million), which now is facing a roadblock.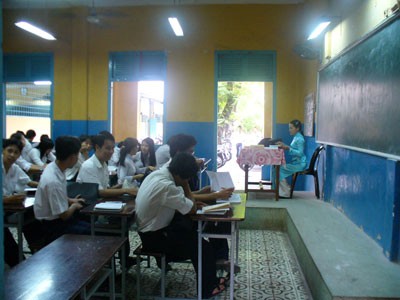 Students studying English in Tran Khai Nguyen High School in District 5 (Photo: U. Phuong)
To make the program effective and successful, the Department of Education and Training had decided to recruit foreign native English speakers to teach in elementary, middle and high schools in HCMC.
When parents learnt of this program they were all excited with the hope that their children would have an opportunity to study English with foreign teachers.
Unfortunately, the department now says that the City budget cannot support the project fully and hence some changes will need to be made.
Social contribution will now be required to fund most of the project as the City can only provide the facilities.
Some schools in the City had agreed to recruit 29 Filipino teachers, but the department will only bring in these teachers for the next academic school year. Because the program was introduced late, some schools had already employed teachers from the UK, US, Australia, and Canada.
Although Filipino teachers agree to work on a lower salary, about US$2,000 a month, some schools will ask for contributions for paying their salaries from students' parents.
Under such circumstances, schools in poorer districts and suburban areas can only see such programs as sour grapes--as none of the students will be able to afford to pay towards salaries of foreign teachers.
Phan Thanh Lap, deputy head of the Department of Education and Training in Binh Tan District, said that District 7 has more than 18 public schools teaching English as an extra curricular activity but only four schools are able to hire foreign teachers.
Besides, facilities in disadvantaged districts are poor and cannot meet the requirements for foreign teachers.
Compared to the existing English teaching methodology, it is better that thousands of students in the City have a chance of practicing listening and speaking skills with native English speakers, who create a more exciting atmosphere in classrooms for students.
The City should focus on students in disadvantaged districts to bridge the gap between the rich and the poor, said some educators.