Ho Chi Minh City had implemented a pilot project to teach natural sciences in the English language at high schools, to enhance English speaking skills, which now has proved ineffective.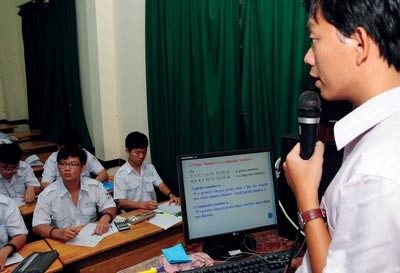 Le Quy Don Senior High School teacher Bui Tuoc Hoan is teaching maths in English (Photo: SGGP)
The program was run by the Ministry of Education and Training, under which more than 1,600 students were taught mathematics, physics, chemistry, biology and computers in the English language.
Junior high school students seemed eager to take part in the program because they are not under pressure of learning, headmasters explained.
Moreover, junior gifted students have motivation to study Maths in English to join the annual Asia Pacific Mathematical Olympiad.
On the other hand, senior high school students are under pressure of a stiff curriculum. The number of tenth graders registering for the program was quite high initially but soon the weight of a heavy curriculum took its toll.
For instance, in Luong The Vinh Senior High School, 40 tenth graders pursued the program at first but only 30 of them registered.
Similarly, more than 30 tenth graders of Nguyen Thi Minh Khai Senior High School participated in the program but just 13 continued in the program.
Meanwhile in Tran Dai Nghia Senior High School, 20 students learned Maths in English and eight joined the Physics class.
One headmaster believes that the program is not attractive enough and most students are not interested in the program. Moreover, 11th and 12th graders concentrate on studying the all-important university entrance examination.
In addition, some schools complained of a lack of qualified teachers and standard textbooks.
The Department of Education and Training in HCMC did not provide standard books, and schools themselves contacted foreign partners for proper books and textbooks.
This resulted in each school having their own content and teaching style.