Local universities across many provinces in Vietnam are now worried they may not be able to meet enrollment targets as statistics of the 2011 university entrance exam results show that many students have fared poorly.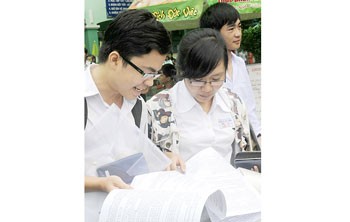 Students appearing for the entrance exam of HCMC Medical University. (Photo: Sggp)
More than 11,000 candidates appeared for the entrance exam at An Giang University in the Mekong Delta region. However, a huge majority failed and only a small minority passed even in the three most important subjects of plant science, animal breeding and aquaculture.
Da Lat University in the central highland province of Lam Dong had 885 students receive a total of 13 marks! While the university enrolment target is 3,000 students each year, this year 274 students just scraped through with the minimum pass marks.
At Nha Trang University in the central coastal province of Khanh Hoa, only two students were admitted into the faculty of aquatic science, two others got through in the faculty of maritime science and only 35 were able to clear for the faculty of aquaculture.
Many local universities in the northwestern and highland regions of the country were also unable to enroll enough students.