Ho Chi Minh City parents are growing angry after recent reports of inappropriate behavior by teachers toward students.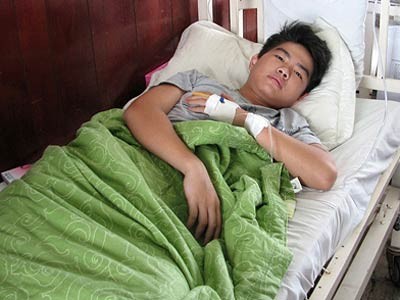 Eleventh grader Le Anh Tuan, who was punished by his teacher with physical exercise, was later hospitalized in Ho Chi Minh City with an injury sustained during the punishment.
Within the last month, an 11th grade student from Le Quy Don high school was hospitalized after being forced by his teacher to perform physical exercise as punishment.
Local media reported that Le Anh Tuan said he was made to cross his arms while holding his ears and quickly bend up and down 100 times. 
The Ho Chi Minh City Department of Education and Training (DoET)'s deputy head, Nguyen Hoai Chuong spoke with Sai Gon Giai Phong about the controversy.

He said his department has received details of the case and is now waiting for a decision from the school on disciplinary action for the teacher.
Also this month, a story surfaced that students at a local school were taking stimulant drugs to stay alert in class as their teacher was forcing them to recite their old lessons.
Mr. Chuong said improper teacher conduct is not new in the city, and school administrators need to learn from past mistakes.
Earlier, a private school in the city sacked a teacher for what it deemed inappropriate punishment of students, he said.
Education experts are also angry at the behavior of some teachers, calling their discipline methods outdated and dangerous. Teachers need to be educated about appropriate ways of dealing with students, they added, and do away with the old adage "Thuong cho roi cho  vot" (Hitting is the best formula to raise a child).


Le Quy Don high school Deputy Head Do Thi Bich Duyen said November 25 the school will convene a meeting attended by political party members to decide on disciplinary action for the teacher accused in the Le Anh Tuan case. The decision will adhere to education sector regulations, the school said.