Candidates from provinces are rushing to large cities to sit the first phase of university and college entrance exams for July 3-5. For many, this stressful period is worsened by trying to find places to stay in cities they know little about. To settle some of these pre-exam nerves, many people have rallied round to aid candidates traveling to the cities.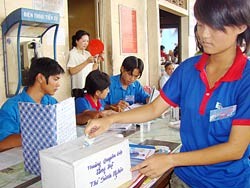 Donation box, an initiative by the volunteers at the Western Bus Stations to raise money to help poor students during the exam
To help the students, especially those who are poor, find comfortable places to stay during the period of exams, people from all walks of life, throughout the country, are joining hands to offer them suitable boarding places, as well as helping them to cut down on travel expenses.

Despite the blazing sun or heavy rains, young volunteers throughout the country are patiently waiting at bus stations to give the candidates assistance as candidates arrive in the cities.

Most volunteers are students from colleges and universities. Their task is to be present at bus stations to welcome the candidates, help them find places to stay and instruct them on how to get to exam venues and travel around the city.

To give help to poor candidates, last week, the volunteers at the Western Bus Station, Ho Chi Minh City, set up a donation box to collect money from passengers.

Nguyen Hien Hau, deputy leader of the volunteer team, said, "We put in some of our own money at first, passengers, motorcycle taxi and bus drivers and employees from the bus station made contributions not long after. After a week, we raised VND417,000. The proceeds have been transferred to the Student Support Center to help candidates in need."

By the end of yesterday evening, the volunteer team at the station had helped more than 500 candidates from the Mekong Delta to find lodgings.

The number of students from the delta rushing to the city for the exam will shoot up one or two days before exams take place, said Hau.

Yesterday, at the city's Eastern Bus Station, the volunteer team welcomed more 3,000 candidates. They also helped a student with disabilities to find a boarding place and took another to his relative's home.

Despite scorching sun, volunteers always rush out when a bus arrives at the station to welcome candidates.

Ngo Thi Phuong Ngoc, a volunteer at the Western Bus Station said, "We've decided not to wear sunglasses, masks or jackets to protect ourselves from the sun. Without such stuff, candidates can recognize us immediately from a distance thanks to our navy blue T-shirts."

Currently in Hanoi volunteers have been seen at bus and railroad stations, in front of gates of universities and colleges and dorms.

According to the secretary of the Hanoi Communist Youth Union, Ngo Duy Hieu, more than 600 students in the capitol have taken part in 40 voluntary teams to help the 2009 exam season.

The union has also published many handbooks and leaflets giving candidates guidance on low-cost boarding places and how to get to exam venues, city maps, lists of bus routes. All provided free to candidates.

Volunteer teams in Hanoi work between 7am and 4pm every day.

Other students in the capitol have also taken their own initiative in setting up volunteer teams to help to candidates coming from the same hometown as theirs.

Students from Giao Thuy District, Nam Dinh Province, have established a volunteer team to give help mainly to candidates from the province, "But we also help candidates from other provinces. In fact, we help any candidate who needs our help," said a member of the team.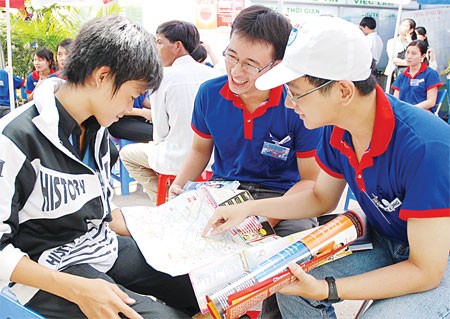 Volunteers help a candidate from Tay Ninh Province
Today, 300 volunteers mobilized by Communist Youth of Can Tho City, Can Tho Province, will show up at gateways to the city to help candidates arriving to the city from other provinces in the Mekong Delta.

The city's Communist Youth has also worked with the Trade Union of the Motorcycle Taxis to ensure that motorcycle taxi drivers at bus stations, wharfs and ferry landings will charge candidates reasonable fares when they use their services.

The deputy standing chairman of Can Tho City Students' Association, Luong Hien Dat, announced that there are over 5,400 spaces available.

To help ease the financial burden of candidates' families during the exam season, a number of transport companies in Can Tho City have offered discounts bus tickets to students.

Phuong Trang Bus Company offers a 50 percent discount for bus tickets, while Phuong Thao Company gives a ten percent discount.

As a measure to ensure there is adequate transport for candidates and their relatives in Thai Nguyen Province during the exam season, management at Thai Nguyen Bus Station announced that buses will operate a further 360 trips on exam days.

It is estimated by Thai Nguyen's transport sector that some 100,000 candidates from other provinces will flock to Thai Nguyen to sit entrance exams.