Vietnamese have a longstanding passion for reading, which is evident at many street corners and parks with people deeply engrossed in the daily newspaper or a magazine. However, the number of book readers in public libraries is dropping alarmingly. Why?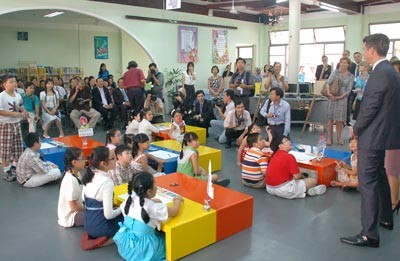 Meeting between small readers and famous figure is organized in the General Sciences Library in HCMC (Photo: SGGP)
As district leaders fail to give attention to public libraries, this task is left to untrained clerks who work as bookkeepers, lend books to readers and keep books in office hours when students and book readers are also at school or work.
When readers are free on Saturday or Sunday, they want to read but the library is closed. Therefore, the library is not attracting many readers.

Lack of relatively well-qualified personnel and limited funds has worsened the situation. Around VND20 million (US$950) is allocated to a library a year. There's not much money left for other expenses.
The library has only VND1 million (US$ 47) left which is just enough for buying 10 books.

According to statistics, around VND80 million (US$3,800) a year is allocated for effective activities, hence most of the documents in a library are merely newspapers and magazines.

Ha Kim Dung, Head of Library Network in Ho Chi Minh City, pointed out that run-down and unattractive display of books results in indifference among readers, especially children who are future readers of the country.

During his tour of libraries in China, Bui Xuan Duc, Director of General Sciences Library in HCMC, discovered decorative plants are grown and taken to libraries by kid readers. Young readers are encouraged to take part in tree planting competitions. The winners were those whose trees grew the most beautiful flowers.

Not only organizing tree planting competition among little readers, the libraries have beds where such special readers can lie down and enjoy reading instead of sitting upright on chairs. The libraries organize story telling competitions, teach how to draw, have game shows, all of which draw young readers.

Some libraries in District 2, 3, 4, 5, 6, Tan Binh, Binh Thanh, Cu Chi are highly valued by residents as librarians are well-trained staff who think of many ways to attract readers despite limited fund. As they know readers are busy, they send mobile book libraries to schools, factories, border guard stations, and workers' lodgings.

The library in District 6 even creates its own website and various activities; accordingly it has attracted many readers. In the future, the library plans to open one more facility in Binh Phu Park to serve people who go there for exercise and relaxation.

At the grassroots level, public libraries, if properly maintained, can play an important role in complementing the formal education system.