Dr. Nguyen Duc Nghia, vice-president of Vietnam National University – Ho Chi Minh City and Dr. Huynh Thanh Hung, vice rector of Nong Lam University, formerly the University of Agriculture and Forestry, gave precise and detailed answers to questions about the Ministry of Education and Training's enrollment policies at Sai Gon Giai Phong newspaper office on March 19.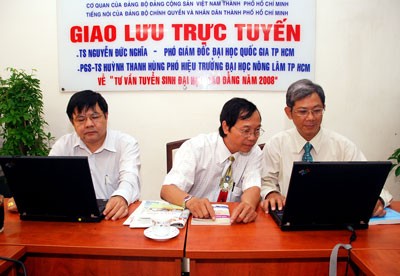 Dr. Nguyen Duc Nghia (R) and Dr. Huynh Thanh Hung (L) at Sai Gon Giai Phong office answer the questions about MoET's enrolment polies
Questions asked of the two vice-rectors included how to fill in an application and which university has a low qualifying score. Highly favored institutions often have qualifying scores higher than less popular schools.
Only 50,000 of the 1 million students who enter university yearly obtain their first choice. Therefore, students must evaluate their own abilities rigorously before applying. A student can apply to various schools, but can sit an examination for only one. Students can reduce the amount they spend on application fees by not applying to schools unnecessarily, Dr. Hung said.
The pressure of the university entrance process is intense for those who failed to make the cut in the previous years. Reader Lam Van Long wondered whether he should brush up at home or at a study center where teachers assist students and review lessons. S
ince the entrance exam's content will be related to what schoolchildren learn and what is in their curriculum, students can brush up at home, according to Dr. Nghia. They can also go to study centers when they feel uncertain as to their abilities.
Education experts say that students can apply to other schools which offer the same options. For instance, Option B students, who opt to take an examination on math, chemistry and biology, can apply to the University of Natural Sciences, to Nong Lam University or to the Medical Training University of HCMC. This year, students will get multiple choice questions on chemistry and biology.
Some state schools will admit a range of students with high scores, including some who failed to get into their desired department or school of choice. (Many subjects are taught in a single university, and each subject may require a different qualifying score)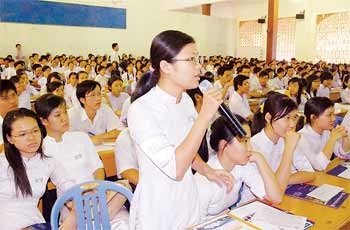 Students at Bui Thi Xuan High School at District 1 at the meeting about enrolment and how to choose proper careers with their ability
In answer to a question by reader thanhtan@... concerning information technology, Dr. Nghia said that the qualifying standard set last year by the MoET is quite high (23,5) and that there is no provision for a second choice.
Since economics is taught at both University of Economics and at Nong Lam University, phanhuyenmys@ …asked if there was any different. In fact, there is no substantial difference in curriculum between two schools, according to Dr. Hung. The difference is simply the relative merits of each school.

Readers remarked on the scores of students entering the universities of economics and law and asked about the demand for students at these two schools.
Dr. Hung agreed that there was higher enrollment demand for the two schools, but added that whether students can get a job after graduation is depends on their ability. Students can examine the qualifying scores for previous years on a website.

Over 40 percent of students choose careers inappropriate to their abilities. When choosing a school, twelfth-graders often follow the ideas of relatives or the example of the careers of family members or the choices of friends.
Most students at VNU feel satisfied with their choice, but some wish to change their major after one or two years of study.

Educational experts gave replies to 50 questions within two and a half hours. Sai Gon Giai Phong newspaper will hold another forum on university enrollment tomorrow.