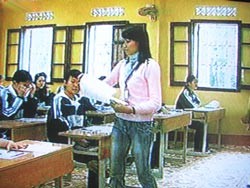 In a high school classroom. (Photo: T.C.)
Conference of improving high school administrators was held in Vung Tau on May 16 by the Ministry of Education and Training (MoET) with the attendance of more than 740 delegates
.
The conference aims to prepare for the launching on the large scale the streamed high school's syllabus and textbooks in the 2006 – 2007 school year.
Deputy MoET Minister Nguyen Van Vong said the launch is under the education renovation strategies, including reform of educational contents, textbook, training methods, assessment and exams, material facilities, teaching aids and education management tasks.
Particularly, reform of training methods is very important for the improvement of quality of human resources.
It can also help train teenagers to meet the demands of the country's industrialization and modernization.