Prohibiting extra classes in primary schools is an integral part of the new draft on education recently issued by the Education and Training Ministry.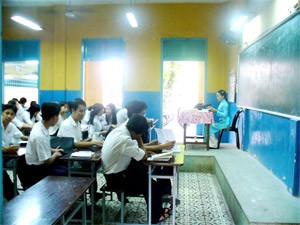 High school students will take no more than three extra classes per week (Photo:U.Phuong)

Supplementary classes should be held on the students' personal wishes, not as an expected standard.

As a result, primary school pupils should not pay additional tuition for extra courses, including those offered during the summer holiday.

The ministry also intends to prohibit teachers from advancing the curriculum or cutting the core courses to fit appropriately with their extra classes.
No punitive measures will be directly or indirectly applied by teachers for forcing pupils to take part in the extra classes.

Furthermore, active teachers will be prohibited by the ministry from running any extra classes outside of their respective school. This is one of the more complicated issues with the education system.

Teachers will often run extra classes out of their home and create extremely difficult in-class tests so that pupils who do not receive private tutoring will be unable to pass the exam.

In the draft, extra classes will be offered without extra tuition. The school leaders will be responsible for managing and arranging these classes.
Students who wish to take private lessons have to make an additional proposal for the school to meet the required conditions of facility and staff. Each class should receive no more than 30 pupils.

The draft also regulates the offering of private tutoring for secondary and high school students.

Students will be allowed to take no more than three extra classes per week.
The city and province's Peoples' Committee will stipulate the schooling fees.
Headmasters will be in charge of managing these internal and external supplementary courses.