Rice University's Connexions has reached an agreement with the Viet Nam Education Foundation (VEF), the Vietnamese Ministry of Education and Training and Viet Nam Advanced Software Co. to deploy Connexions' web-based, open source document creation and management system and content to improve education and research throughout Viet Nam.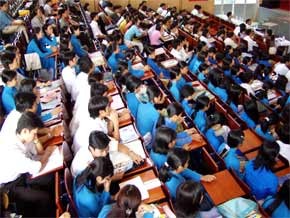 Vietnamese university students at their lecture hall (Photo: Tuong Thuy)
The parties agreed to organize the first of a series Connexions training sessions in Ha Noi and Ho Chi Minh City this July.
Connexions, based at Rice University in Houston, USA, is a growing collection of free scholarly materials and a set of free software tools to help authors, instructors and learners.
"Connexions will provide the tools that Viet Nam needs to turn passive, open-source study materials into active learning resources for both teachers and students," said Kien Pham, executive director of VEF, an independent US agency created by the US Congress to strengthen relations between Viet Nam and the US through educational exchanges in science and technology.
Connexions founder Richard Baraniuk said Connexions would benefit Vietnamese students and instructors by allowing them to both create and access free and constantly updated materials.
Viet Nam's education ministry will coordinate and promote the use of Connexions at universities and institutions of higher learning throughout the country. Viet Nam Advanced Software Co. (VASC) will act as technical collaborator and incorporate the use of Connexions' tools. VEF will act as a catalyst and facilitator, working closely with each of the partners to coordinate and promote the use of Connexions.
Connexions' content is stored in XML (Extensible Markup Language)-based formats to ensure that any lesson could be translated into other languages.