The president of RMIT International University Vietnam, Professor Merilyn Liddell, held a press conference in HCM City August 11 to discuss the university's future plans.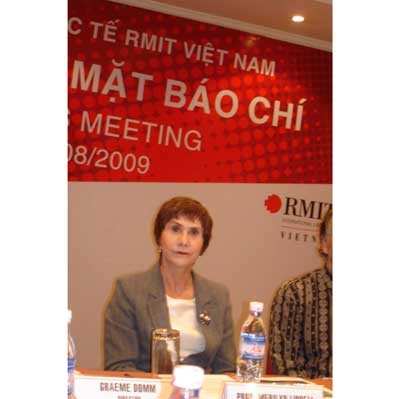 Prof. Merilyn Liddell at the August 11 press conference at Caravelle hotel in Ho Chi Minh City (Photo; U. Phuong)
Ms. Liddell thanked the Vietnamese government for its support.
According to her, while receiving her in Hanoi on July 24, Vietnamese President Nguyen Minh Triet welcomed the university's planned expansion in Vietnam and stressed that among foreign education organizations in the country, RMIT is highly valued for its quality training.
She said the university's student population had grown to over 5,000 in both Saigon South and Hanoi campuses, with the Stage-2 campus development at Saigon South scheduled to open March 2010.
The campus will provide facilities for students to enjoy a rounded university experience combining education, sports, leisure and social interaction, she said.
The new sport and leisure complex and students accommodation will cost US$15 million.
Regarding teaching, Liddell said RMIT pays much attention to quality.
She said it trains student so that they can apply their knowledge in working in Vietnamese or international companies, she said.
A survey conducted by the university revealed 70 percent of RMIT former students have jobs, ten percent continued to pursue higher education in overseas countries and ten percent opened their own business or were helping their families' businesses.
Regarding questions about reducing tuition fees, she said the university was unable to do so, as it had to pay for qualified teaching staff.
However, the school has sought financial support from companies, which have cooperated with the school for years and students could win scholarships.
This year 30 scholarships are available for 28 Vietnamese students, one from Laos and one from Cambodia.
The school teaches three semesters a year instead of two semesters, unlike other universities to help students save money.
According to Prof. Liddell, local students can save up to two-thirds on tuition in comparison with studying in Australia.