This year's RMIT Vietnam Careers Week wrapped up Friday at the international university's Saigon south campus with the Careers Expo, where nearly 50 major employers took part in.
The exhibition drew more than 2,000 students to see display stands and activities staged by employers in the university's recreation and events complex, according to the organizers.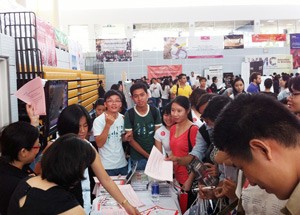 Students get information from the stand of Britain-based Association of Chartered Certified Accountants at the Careers Expo at RMIT Vietnam's Saigon south campus on August 12, 2011
"Today's Careers Expo and all our other Careers Week activities demonstrate RMIT's commitment to ensure that our graduates will be highly employable and fully prepared for graduation," RMIT Vietnam President Professor Merilyn Liddell said while closing the week-long event.
"This event is a major commitment each year, in cooperation with industry, to help our students develop the skills and awareness they need to successfully launch their careers," she added.
Students were given first-hand advice on local and international careers available in a wide range of major companies. They also had an opportunity to attend information sessions conducted by the companies to provide them with tips and knowledge a career starter needs.
Earlier in the week, the careers fair and events themed "I am the author of my own story" aimed to help inspire students to find the right career path for their future.
Other activities during the week included panel discussions with successful employers, sharing their own career stories, and workshops covering the skills needed by students to make a successful transition to employment after graduation.
Sponsors of the Careers Week included Citibank, Grant Thornton, Procter and Gamble, Sophie Paris, TRG International, Windsor Management Corporation, the Britain-based Association of Chartered Certified Accountants, and professional accountancy associations CPA Australia and CIMA.