RMIT International University Viet Nam has awarded 24 fully funded undergraduate scholarships as part of its 2006 scholarship program.
The undergraduate scholarship program was launched nation-wide in March for Vietnamese high school graduates in 2006.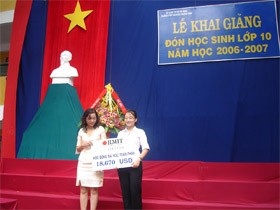 Pham Nguyen Tuyet Van, RMIT's Public Relations & Communications Manager, awards scholarship to Dinh Ngoc Khanh Ha from Nguyen Thuong Hien high school on Sep 5 (Photo: U.Phuong)
The scholarship covers the total tuition fee of an undergraduate program at RMIT Viet Nam (currently worth at least USD $14,540 including text book rentals).
The combined total value of the scholarship program is over USD $400,000.
Awarded students can study at RMIT Viet Nam's Ha Noi or Saigon South campuses.
This year, one of the scholarship winners is Nong Phu Tai, of Tay ethnic minority group, from Cao Bang province. Tai achieved good academic results and won several prizes at both provincial and national levels.
In his essay for scholarship, Tai wrote "… After many years studying in school, through media and real life experience, I have realized the problems and difficulties of Viet Nam in general and Cao Bang in particular. For this reason, I always try my best in my studies. I achieved some good academic results and prizes but these achievements really did not satisfy me. I have never stopped to exert myself and wish to fly higher and further in the sky of knowledge. I am eager for learning and making a contribution to the cause of development and prosperity of my motherland. It was through the media that I got to know RMIT Viet Nam's professional education and I am avid to experience the educational environment at an international university…"
The successful applicants must meet the English and academic requirements and show proof of their social activities.
Scholarship winners had an average mark over 8.0 and the highest was 9.8. Most of the winners will commence studying on 11 September 2006.
24 scholarships were awarded to:
1. Vu Ho Quang from Chu Van An high school (Hanoi)
2. Tran Minh Anh from Hanoi – Amsterdam high school (Hanoi)
3. Phan Thi Le Trang from Hanoi – Amsterdam high school (Hanoi)
4. Nguyen Thi Mai Anh from Kim Lien high school (Hanoi)
5. Mai Phuong Thuy from Phan Dinh Phung high school (Hanoi)
6. Nguyen Quynh Chi from Thang Long high school (Hanoi)
7. Le Hoang Anh from Tran Phu high school (Hanoi)
8. Nguyen Hai Duy from Viet Duc high school (Hanoi)
9. Le Thien Minh Trang from Hung Vuong high school (HCMC)
10. Pham Lam Thuy Quyen from Le Hong Phong high school (HCMC)
11. Dinh Phan Khang from Le Hong Phong high school (HCMC)
12. Lam Nguyen Bao from Le Hong Phong high school (HCMC)
13. Lam Diem Trang from Le Quy Don high school (HCMC)
14. Dinh Ngoc Khanh Ha from Nguyen Thuong Hien high school (HCMC)
15. Nguyen Thi Hong Hanh from High School for the Gifted (HCMC)
16. Nguyen Cong Vinh Phuong from Trung Vuong high school (HCMC)
17. Nguyen Hong Nhu from Tran Dai Nghia high school (HCMC)
18. Nguyen Hoang Long from Quoc Hoc high school (Thua Thien Hue)
19. Vo Thi Phuong Uyen from Le Quy Don high school (Khanh Hoa)
20. Cu Nguyen Tam Chan from Phan Chau Trinh high school (Da Nang)
21. Nong Phu Tai from High School for the Gifted (Cao Bang)
22. Luong Minh Thuyet from Ly Tu Trong high school (Can Tho)
23. Huynh Thi Hong Van from Luong The Vinh high school (Dong Nai)
24. Dao Cong Duy from Le Quy Don high school (Ba Ria Vung Tau)