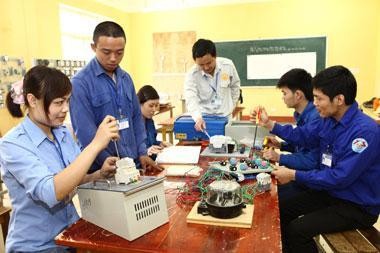 Only 30 per cent of young people receive vocational training
According to the latest survey on vocational training for youth in rural areas by the Ministry of Labor, Invalid and Social Affairs, only 30 per cent of young people receive vocational training.
The survey was conducted in some southern provinces including Ho Chi Minh City and also showed that most young people in the countryside are unskilled workers.
Moreover, the ratio of young people above the 10th grade is only around 50 per cent.
More worrisome is that half of the youth in urban provinces and big cities like Ho Chi Minh City, Bien Hoa in Dong Nai Province, Thu Dau Mot in Binh Duong Province and Vung Tau in Ba Ria-Vung Tau Province have actually graduated from vocational schools.
Jobs in electronics, telecommunications, mechanics and construction are in enormous demand yet very few skilled workers can meet this demand.
This shows that the method of vocational training is highly unsatisfactory. Economists believe that the government should spend more on job orientation and vocational training in junior and senior high school level so as to raise the ratio of skilled workers in rural areas.