The Asia Injury Prevention Foundation (Asia Injury) has delivered a project entitled "Traffic Safety Improvement" to two primary schools, Hương Van and Phu Bai, in Thua Thien Hue Province on November 15-16. This project is being sponsored by Liberty Mutual (Viet Nam) and TNT – Veterans Express Worldwide (Viet Nam) Ltd. The cost of this safety program is over VND 327 million.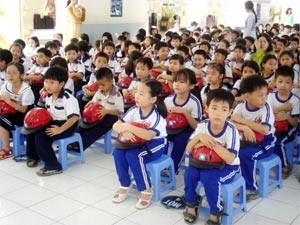 Schoolchildren with their helmets given by Maersk Vietnam Ltd in Ho Chi Minh City last April (Photo: VH)
"Traffic Safety Improvement" has been successfully piloted at four primary schools in Ha Noi and Thua Thien Hue in 2005 and 2006.

The project received high praise from the Ministry of Education and Training as well as the National Traffic Safety Committee for its practical and effective contribution to school traffic safety and its long-term sustainability after the termination of the project.

"Traffic Safety Improvement" has been designed as a combination of three components: Education, Engineering, and Enforcement (3 E Modules) to improve the traffic safety environment in and out of school zones.

Educationally, all teachers of the two primary schools involved have been trained about traffic safety (TS) knowledge and application. A variety of visual classroom materials have been disseminated to more than 1,100 students. Included in the material are TS curriculums, parental awareness material, traffic signs, traffic posters, and mock intersections depicting defensive driving tactics.

Additionally, each school was equipped with a painted intersection with a working traffic light system set up on the school playground for lessons in traffic safety. This allows the children to learn traffic safety through more realistic circumstances.

For the part of the engineering module, the project has built speed bumps, zebra crossings, and installed SCHOOL and CROSSING awareness signs within the immediate radius of the schools. There has also been a "Safety volunteer team" (crossing guards) set up to assist students at pick-up and drop-up times.

The school students have additionally been equipped with high visibility "safety hands" (large bright yellow hands) to hold up when crossing streets to and from school to improve their visibility to drivers.

To strengthen effectiveness and sustainability, the Project has elicited the involvement and commitment of many governmental sectors such as the Ministry of Education and Training; the National Traffic Safety Committee; the Police, the Department of Education and Training, the Department of Transport and Public Works of the local province, the school management board, and the student parents associations.

The insurance company of Liberty Mutual entered the Viet Nam market in 2003 with its mission "For safer, more secure lives". Safety issues including traffic safety in Viet Nam are among the company's progressive social policies since their introduction in the Vietnamese market.

According to a Viet Nam Multi-Centre Injury Survey done in 2001, around 4,100 children died from traffic accidents the previous year. That is a staggering average of over 11 children a day. Boys are twice as likely to die as girls.

In the same year, there were 290,000 reported cases of children injured as a result of traffic mishaps, or 794 a day. The majority of the children who were injured or killed were pedestrians between the ages of 1 and 9 years old.