Sai Gon Giai Phong Newspaper held the 13th Nguyen Van Huong scholarship-granting ceremony at Pham Ngoc Thach University of Medicine on June 28.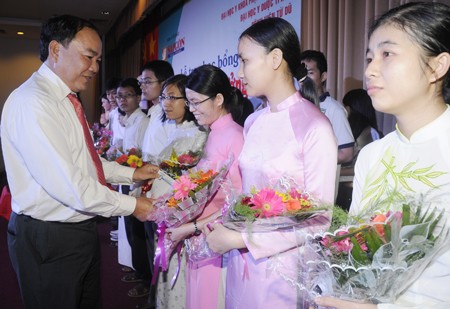 Pham Viet Thanh, deputy director of Ho Chi Minh City Department of Health grants scholarships to students of Ho Chi Minh City University of Medicine .(Photo:SGGP)
The 13th scholarship-granting ceremony gave away 80 scholarships worth VND390 million, including 30 scholarships worth VND5 million each to university students and 20 scholarships worth VND3 million each to high school students of the Pham Ngoc Thach University of Medicine and the Ho Chi Minh City University of Medicine. 30 scholarships worth VND5million each were also given to medical students of the Tu Du Hospital. Doctor Ta Trung Quac has donated towards the latter.
The SGGP fund will also provide VND30 million to buy equipment for midwives in rural areas.
At the ceremony, Pham Duc Hien, Deputy Editor-in-Chief of SGGP said that 13 years have passed since the fund was established and scholarships have provided financial assistance to 744 needy students and doctors in remote areas.
Individuals and organizations have supported the fund which began with an initial donation by Doctor Nguyen Van Huong of VND40 million.
Since its establishment, the scholarship scheme has received support from individuals working in and outside of medical professions, companies and attracted a lot of attention from the medical departments.
Nguyen Thi Kiem Tien, Deputy Minister of Health said that the Nguyen Van Huong scholarships to students of medicine was a great philanthropic act for the growth of society.
She also hoped that students who had received this scholarship would try their best to study and become good doctors.