Many school construction projects in the Mekong delta province of Long An are on hold, due to lack of funds and resources.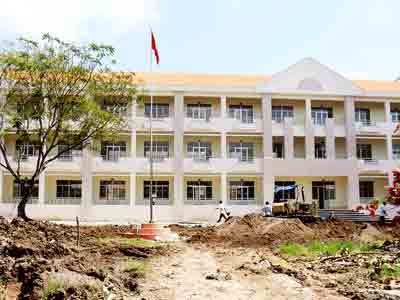 Le Quy Don High School
At least 25 construction projects in the province began in 2009 but are now on hold. For instance, the Le Quy Don high school in Tan An Town, one of the biggest schools in the province, has been practically shelved with only a few workers hanging about the construction site where material like sand and concrete is lying piled and unused in the premises.
Huynh Ngoc Luu, director of the construction project said that the Le Quy Don School was supposed to have been ready by the end of 2010. Now an extension has been sort until 2012.
Luu explained that the hold-up was due to lack of capital. In 2011, the Province Department of Construction asked the People's Committee for VND200 billion for construction of the education centre but leaders only approved VND102 billion.
Tran Hoang Nhan, director of the Department of Education and Training in Long An is doubtful whether the school will be complete by the next academic session.