Ho Chi Minh City-based American Vietnamese International School (AVIS) deceived nearly 300 students during the 2009-2010 academic year, as it had been training them for a three-year college degree which is unaccredited.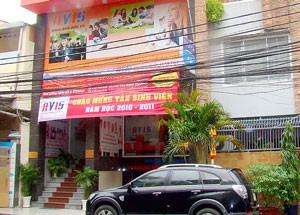 American Vietnamese International School at 36, A4 Street, Tan Binh District, Ho Chi Minh City (Photo: SGGP)
The school, which is operated by American Vietnamese International Joint Stock Company, functions as a personnel training school offering only short-term courses.
 
However, it was advertised classes on information technology and international economics together with English. 
 
With this advertisement, Le Cong Duc, the company's director, enticed hundreds of applicants from provinces.
 
For the 2009-2010 school year, the school sent admission notes to applicants and induced nearly 300 candidates to enroll on a three-year degree course in IT and international economics at a tuition of US$4,000.
 
Some students said at the new school year ceremony in 2009, the school's managers promised that after graduation, students would be granted an international graduate degree by a foreign school associated with AVIS, and that all of them would find jobs related to their majors.
 
When going to class, students saw abnormal signs. For instance, the school pledged that English classes would be conducted by native English speakers, but in reality ended up being taught by Vietnamese teachers, and students only had the chance to study English with Dennish Requet, the school's deputy head, once a week for a few months.
 
In addition, the school advertised it had a modern online library, but there was only a shelf with some books and not any computers.
 
Student suspicions of deception was confirmed when they were invited to a seminar, which was really a meeting to introduce a new management board, on July 23, 2010.
 
At the meeting, students were informed that Mr. Duc's company was not licensed to offer the three-year degree course and the program which they had studied during the past year was unaccredited.
 
Convinced to study bachelor's degree course
 
At the meeting, Nguyen Danh Chau, director of the southern branch of the International Cooperation and Education Center, under the Enterprise Management Institute, which has associated with AVIS in training, said, "In the past, you studied in a professional environment, but unfortunately the program was unaccredited; so we will admit you to our school to study as part of a program affiliated with the University of NorthWest."
 
He said after graduation, students would be granted a bachelor's from the University of Northwest, which is accredited in 59 countries.
 
A member of the management board said the university was established in 2001 and has affiliations in Singapore, the United Kingdom, Pakistan and Nigeria.
 
Ho Nam, AVIS' new principal, said the tuition for the bachelor program would be US$5,960, but that students would be offered a reduced tuition of only US$5,000, which would mean that they would only have to pay an additional US$1,000 in order to earn an accredited bachelor's degree.
 
The American Embassy in Vietnam has confirmed that there is no University of NorthWest in the US.