The Ministry of Education and Training convened a meeting in Ben Tre Province on November 9 with leaders of all education departments of the Mekong Delta provinces to discuss the facilities available for the new academic year.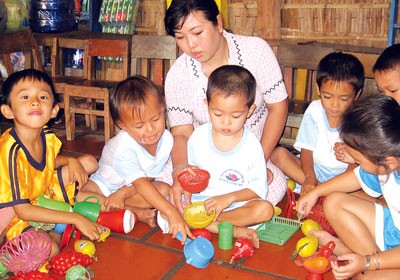 Preschool teachers and students learn in bamboo classroms in the Mekong delta (Photo: SGGP)
For the next academic year 2012-2013, the Mekong delta region has 6,625 schools which include 1,660 preschools, 3,012 primary schools, 1,400 Junior High Schools, 428 Senior High Schools and 125 Continuing Education Centers with 3,151,707 students at all levels.

Until September 2012, the region had built 2,647 new classrooms and 731 specific rooms such as libraries and labs at a total investment of VND1,765 billion. The region also spent VND376 billion on upgrading an additional 9,769 rooms.

Despite the concerted efforts made to increase school facilities, the region still has 5,465 temporary classrooms with 1,871 classrooms in Soc Trang Province and 1,160 rooms in Ca Mau, especially for preschools, in residents' houses. The high rate of drop-out is also a headache for educators.

Leaders of departments of education and training in the Mekong Delta province have petitioned the Ministry to adopt special policies for those people working as librarians and accountants or other such jobs. Such people should be considered teachers on the payroll.

The ministry should also announce spending for the national education development program in 2013 so that schools can actively use the budget.