The Ministry of Education and Training has asked its departments; universities and colleges to step up on campaigns to raise awareness of traffic safety at the very beginning of the next academic year.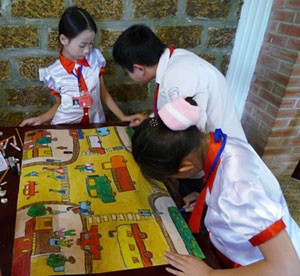 Primary students draw picture in traffic safety competition
Schools should ask parents to sign a pledge not to let students less than 18 years of age to drive without a license and ensure students wear helmets while driving motorcycles.
Facilities should liaise with local administration to adopt measures to reduce traffic congestion in front of schools and to increase awareness of traffic regulation to both staff and students, while refraining from drunken driving at all times.
The ministry also asked departments to publicize the competition 'Intellectual Traffic' on the Internet in primary and junior high schools and also make clear to students' regulations of waterway traffic laws, while teaching all on how to swim as well.