The Ministry of Education and Training has presided the first seminar on employment consultancy for students with the attendance of representatives of 60 universities, many companies and recruiters. How universities and companies join hands to develop their symbiotic relationship was a hot issue of the seminar.

Offering what companies want to buy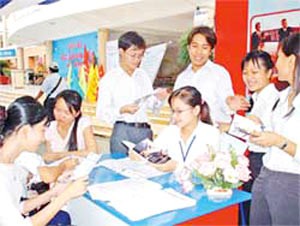 Students attend the Banking Employment Fair 2006 in HCMC
Why do as much as 60% of graduates have to be re-educated for employment? Why is the market of human resources always short of highly qualified personnel while many graduates cannot find a job?

Analyzing the hidden causes of these paradoxes, Managing Director of PACE Viet Nam Co., a human resource development company, Gian Tu Trung says Viet Nam's educational and training system has not integrated in, and developed in accordance with, the market mechanism.

Due to biased education, which is inappropriate with the society's employment demands, universities and colleges have failed to include in their education and training programs what companies and recruiters really require.

Responding to companies and recruiters' complaints, universities posed a question: Why companies not to take the initiative to place orders to the training institutions?

Le Xuan Sinh, director of the Student Assistance Center of HCMC Open University, said universities really want to know what companies need in order to train and shape their "products" accordingly.

In reality, however, the symbiotic relationship between universities and companies is not clear.

According to Mr. Trung, there must first be a breakthrough and a change of thinking in education and personnel training in accordance with the market mechanism. With the new change, universities will play the role of companies and companies will act as customers.

In order to meet their customers' demands, universities have to provide qualified and prestigious manpower "products", and do marketing of their "products" to customers.

Universities, therefore, have to sell what companies want to buy, and not what universities want to sell.

In order to have good manpower "products", universities and colleges have to build their own trademark and rank through the quality of education.

In addition, universities and colleges must be able to foresee recruitment tendencies of the human resource market and new occupations in need of manpower to prepare for appropriate enrollment.

Nguyen Thu Giao, Human Resource Manager of Interflour Co., said that in order to further develop the symbiotic relationship between companies and universities, companies should join in the efforts, offering universities orientation on what practical skills are needed and how they should be trained.

Based on surveys, Dr. Tran Dinh Ly from HCMC Agriculture and Forestry University recognized that it is not a popular practice to call for companies' participation in universities' training.

In addition, there is no enthusiastic cooperation between companies and universities in creating favorable conditions for students to do internship at companies, partly leading to low quality of training and poor practical skills.

Providing timely consultancy on choice of study major and career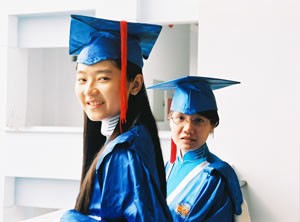 If students are advised on the choice of career, they will step into life more confidently with well-prepared knowledge and skills.(photo T.C)
In fact, the task of career orientation for students is very important in helping students avoid wrong choices of majors. The consultancy and career orientation should be carried out soon to support students and connect them to jobs.

However, some universities and colleges have not yet satisfactorily invested in employment consultancy and orientation departments.

Dr. Le Thi Thanh Mai of Viet Nam National University-HCM warned that it is an unusual phenomenon that students majoring in bio-technology, a key major, cannot find an appropriate job after graduation.

The cause might lie under their bad choices of majors, lacking information of career and inappropriate training. Therefore, she said, many students become unsuccessful and depressed right on their first step into life.

According to director of L&A Human Resource Training and Consulting Co. Pham Thi My Le, as many as 20% of college and university students have chosen wrong study majors. As a result, they are not interested in their majors at university, and surely they will not work in their majors and change jobs frequently after graduation.

If students are advised on the choice of career, they will step into life more confidently with well-prepared knowledge and skills.