The educational sector should more focus on educating students in civic morality, including family values, and schools should Deputy Prime Minister Nguyen Thien Nhan said.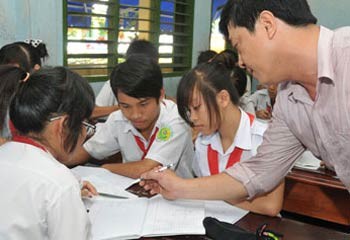 9th graders at Pham Dinh Ho Secondary High School of District 6 taking in a mathematics lesson. (Photo: SGGP)
He made the instruction at a national conference themed "Stepping up educational management and improving educational quality," held July 29 to review the 2009-2010 academic year for pre-schools, high schools and vocational schools.
Mr. Nhan asked the sector to take steps to enhance the educational quality to increase the number of high achieving students.
Schools should create learning environments that are more effective and friendly so that students can study better.
To this end, norms of knowledge and skills must be revamped and advanced teaching methods must be applied.
High schools should include family values in their curriculum to help students improve their awareness and thereby develop their sense of responsibility, respect and love for their families.
Students in general should be equipped with knowledge and skills necessary for international integration. For this purpose, schools should pay more attention to teaching foreign languages and computer science to their students.
In the 2010-2011 school year, the education sector will, for the first time, apply a new foreign language teaching program for students of grade 3 upward, Mr. Nhan said, adding that the move is the first step of a 10-year program to improve the teaching of foreign languages in schools nationwide.
Therefore, big cities and provinces should take the initiative in implementing this program, he said.