The Ministry of Education and Training has ordered all schools in Vietnam to increase teaching time for traffic safety regulations and integrate learning of traffic rules with extra curricular activities.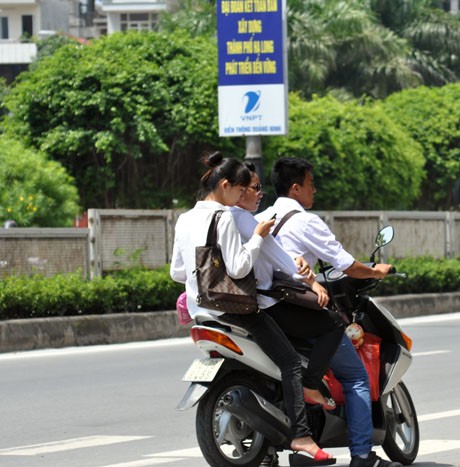 Students disobey traffic rules by not wearing helmets and carrying too many pillion riders on one motorbike
This was emphasized at a seminar organized by the ministry and the Department of Education and Training in Ho Chi Minh City on August 22, in which it asked schools throughout the country to increase teaching hours for students whose major is to teach lessons for citizenship education to learn more on correct traffic rules so as to increase more teaching staff with knowledge of the field.
The Ministry stressed that teachers must educate students on traffic regulations as part of the curriculum from pre-schools to higher educational institutes.
Schools must also implement activities for students focused on traffic safety even after finishing schools.
At present, students' awareness on safety on the streets is still very low, as many continue to drive motorbikes without helmets, ignore red lights, drive at high speed and carry too many pillion riders on motorbikes.
Schools authorities asked the Ministry to have clear rules for penalizing students who cause and disrupt traffic safety regulations, as this would deter them from violating the traffic law.