The Ministry of Education and Training asks high schools not to carry out two-session program in schools unless students' parents have requirement and schools receive permission from functional departments and local authorities.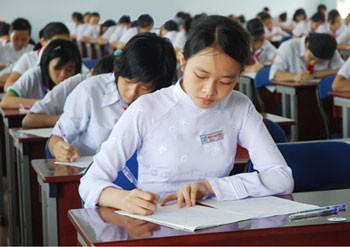 Students of Le Hong Phong gifted high school study in a class session. All gifted high schools must meet national standards by 2015. (Photo Mai Hai)
The latest regulation meets demand of the society and families in managing and educating students as well as limits private "extra-study" classes.
A draft decree launched by the ministry regulates that primary schools' teachers are not permitted to use cell phones while teaching, to offend pupils, violate mental and physical health of pupils and colleagues; drink alcohol and smoke while taking part in educational activities at schools; force students to take "extra- classes"; give up teaching and truncating educational programs casually.
In related news, the ministry has promoted a project on the development of the gifted high school system in the 2010-2015 period. The ministry will spend a total capital of more than VND2,300 billion (US$115 million) in gifted high school system.
Under the plan, Vietnam targets one gifted high school in every city or province by 2020 and national standard for all gifted high schools across Vietnam by 2015. Among them, 15 specialized high schools will meet international educational standards.