As the new school year fast approaches, the pressure of crowded classes in state-run schools in HCM City has mounted. Some newly-built schools are available for the new academic year while others are still in the middle of construction or their designs remain on paper.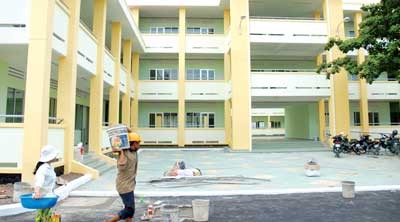 Although the new school year is fast approaching, construction of Chau Van Liem Primary School is still incomplete. A lack of schools has created headaches for educators (Photo: SGGP).
The education sector annually faces a lack of schools or overcrowded classes, especially this year, which has seen an increase of first graders.
The pressure becomes greater in the overpopulated outlying districts Tan Binh, Tan Phu, Go Vap and Binh Tan.
Thu Duc is a suburban district, where many factories have been set up, which is leading to a high annual rate of population growth.
The district has built seven new facilities with sixty-six rooms for the new academic year. However, only Binh Chieu Secondary School, with its ten rooms, has been completed while the construction of Linh Xuan Pre-school and Linh Tay, Nguyen Van Lich, Binh Quoi, Thai Van Lung and Linh Xuan primary schools are still in progress.

Construction of Hiep Binh Senior School, where grass, untouched for some years, has become overgrown, is scheduled to re-start in October yet nobody can predict when it will be finished.
The situation is the same in other districts.
Some new constructions even just kicked off in June, such as Ngo Chi Quoc Junior School in Thu Duc District and Khanh Hoi A School in District 4.
Hoc Mon District will begin building three facilities, including My Hoa, Thoi Thanh Tay and Bac Lan primary schools and Ba Diem Pre-school, at the beginning of the new school year.
Plans for Tay Thanh Senior School in Tan Phu District have remained on paper for several years, with spending having soared from VND57 billion to over VND82.5 billion.
There will be 51 schools with 632 rooms for the 2009-2010 school year, costing nearly VND658 billion, said the city's Department of Education and Training.
Yet, only Tan Phu and Go Vap districts have finished construction of Au Co Primary School, with 25 rooms, and Nguyen Thuong Hien, Tran Quoc Toan and Vo Thi Sau primary schools, respectively.
In such circumstances, schools need to manage somehow.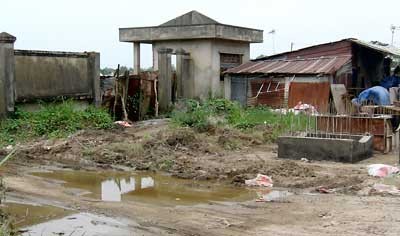 Construction of Hiep Binh School where grass, untouched for some years, has become overgrown, is scheduled to re-start in October (Photo: SGGP)
For instance, Senior School Tay Thanh quickly built 12 temporary classrooms for the new school year.
Since such temporary rooms are made out of corrugated iron, which are extremely hot in tropical countries, the school needs to plant many trees between rooms to act as shade and install water sprinklers on the roofs to curb the uncomfortable weather.
The situation is even more acute at Khanh Hoi A Junior School, District 4, where its students having to study at Vinh Hoi Primary School, the District's Vocational Guideline Center and Chi Lang Junior School.
The headmistress has complained that her teachers must sit in the lobby in break time when teaching at the Vocational Guideline Center. However, both teachers and students have tried their best in teaching and learning in such a situation for the past two years.