The school dropout rate in the southeastern region and some southern and central provinces may have fallen but remains high, education officials admitted at a meeting in Binh Duong December 8.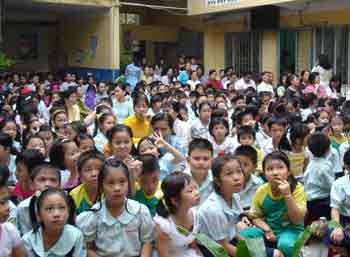 A primary school in Dong Nai Province. The school dropout rate remains high in several parts of Vietnam and the Government has launched a campaign to combat this. (Photo: Dang Long)
Binh Thuan in the central region has the highest fresh dropout rates with 0.19 per cent of primary-school students, 3.12 per cent of junior-high students, and 4.09 per cent of high-school students quitting.
The southern Binh Phuoc Province followed with 0.55 per cent, 3.3 per cent, and 3.56 per cent respectively.
Ba Ria-Vung Tau saw the rate actually increasing from 0.3 per cent to 1.1 per cent.
The officials from departments of education and training, who met to review the 2009-10 academic year, listed several reasons for the problem, including the heavy curriculum which sees poor students struggle to learn before quitting, family apathy, and the need for low-income students to work to support their families.
On the same day Ho Chi Minh City Education newspaper and the city's Department of Education and Training held a seminar to discuss "Improving management to raise schooling quality."
Many delegates said the quality of management is poor, adding the disparity in students' capabilities and crowded classrooms worsen the problem.
But all agreed to make efforts to improve the quality of education.
The seminar was held as part of a Ministry of Education and Training's campaign to improve education quality in 2009-10 by creating a friendly schooling environment, checking wrongdoing, having lessons on morality in the curriculum, and reducing the dropout rate.