Schools in Ho Chi Minh City will give bonus payment to teachers who teach crowded classes, tutor backward students and foster talented students.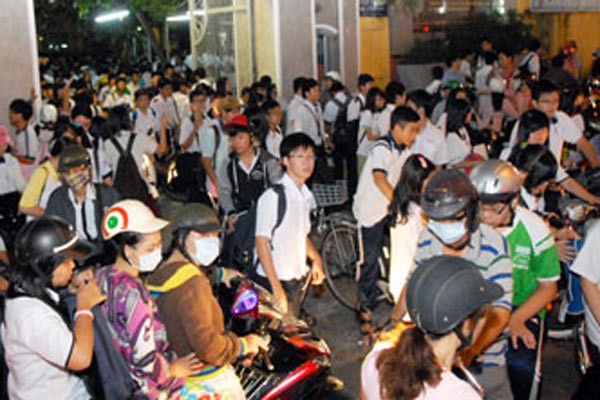 Students finish an extra class (Photo: SGGP)
HCMC authority banned school-run after-hours classes from October 12 as per the Ministry's guideline. Schools
Schools organized after-school classes based on the students' wish and students are sent to classes accordiant with their level. School managers will control the list of students of each class as well as content and curriculum.
Students have right to select teachers of their choice. Bonus payment for teachers who provide tutoring to weak students and foster talented students will be taken from state budget and students do not pay any tuition fee.
The city People's Committee assigned the director of the Department of Education and Training to take responsibility to end rampant and passive extra classes.

In addition, the authorities wants to organise more schools of two sessions including morning and afternoon, reduce number of students in a class to improve teaching and learning quality, increase activities in labs, social soft skills and teaching of arts, sports and drawing.
Additionally, schools should be given more right to implement policies to support teachers, for instance, teachers should be supported with houses and their salary should be increased.
Moreover, teaching methods need to be reformed. New books should be edited to meet high standards and reduce pressure of studying for students but encourage students to self-study instead.
Schools should implement a system to answer students' questions of lessons through telephone or website.
District administrations should check to give empty land for building more schools so that the city has 300 classrooms over 10,000 residents by 2020 as well as call for social contribution in education sector.
Inspectors from the Department of Education and Training and chairpersons of dítrict level people's committee will pay unscheduled visits to discover illegal extra classes.